Why become an Approved VHR member?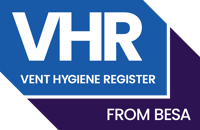 Over 135 quality vent hygiene contractors are registered with us, here's why.
Become an approved VHR member and unlock a whole host of benefits for you and your business. We want to make your VHR membership a valuable experience so let us help you win more work, demonstrate organisational compliance and be part of a community that always has your back.
All you need is Hub
Introducing the VHR Hub, where you can access all your business benefits in one secure place.
Manage and update your personnel details securely so we can always get in touch with the right person
Be the first to know
We will always keep you up to date with the latest VHR and industry news, updates and guidance straight to your inbox or your mobile.
We also provide updates via LinkedIn so make sure you follow us and help us educate the wider sector about the importance of vent hygiene.
A collective voice for change
The Vent Hygiene Register was launched four years ago and together we've achieved a lot in a short space of time but we know there is still more to do. We are lobbying with government departments for a regulated vent hygiene industry to prevent another tragedy like Grenfell.
With the enactment of the Building Safety Act 2022, demonstrating competency and compliance is at the forefront more than ever, so being part of VHR is vital to protect your reputation.
A fair level playing field
We have raised the bar with VHR and don't want to let standards slip within our industry, which is why those who claim to be working to the TR19® Grease Specification but are not registered with the Vent Hygiene Register or are falsely using the VHR quality mark, need to be reported.
All approved VHR contractors can be found on our Find a VHR Contractor search tool. Action will be taken against those who are falsely advertising themselves as TR19® compliant or registered with VHR.
What our members say about us...
"I wanted to say a huge thank you to Roger Smith at the Vent Hygiene Register who guided us through our first PCVR audit, as we have recently purchased this business and have very little experience in writing these reports to such a detailed standard. Roger always had a smile on his face and made what we thought was a difficult task into a simple one. Our customers have been impressed with the PCVR's and it will help us win more business in the future around the UK."
Sign up to our VHR mailing list
Stay up to date with the latest from The Vent Hygiene Register and receive industry news and information from the experts.