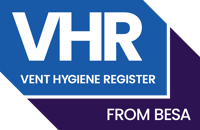 Business Management Review (BMR)
Company financials

Insurance policies

Health and Safety policies

Training and qualifications
Technical Audit
Audit with a VHR Assessor
First 5 Audit - upload 5 Post Clean Verification Reports (PCVRs) for review
For the Vent Hygiene Register - the minimum qualification requirement for signing off works is a Grease Hygiene Technician (GHT). We recognise the BESA Academy suite of Ventilation courses and GTOF 04 SCQF Level 5: Ventilation Hygiene Certificate.
If your staff require training, you can find a list of approved training centres on the BESA Academy website.
Pricing and notifications
An annual Vent Hygiene Register membership is £350, which includes the cost of your audit.
For companies who are BESA members, VHR membership is included within your BESA membership.
Notification of work fees are set as 75p per notification registered on the VHR Hub.
Still unsure as to why you should join the Vent Hygiene Register? Let us remind you about all the great benefits and support we can offer you and your business.
Sign up to our VHR mailing list
Stay up to date with the latest from The Vent Hygiene Register and receive industry news and information from the experts.