WHY USE THE VENT HYGIENE REGISTER?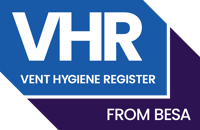 Vent Hygiene is more than just cleaning, it's fire prevention.
All Vent Hygiene Register (VHR) members have undergone our robust and industry leading audit process to ensure they are fully compliant with the industry specification TR19®.

Keep reading to discover why you can choose a VHR contractor with confidence and why it's so important to ensure your grease extract system is properly cleaned.
Using a VHR approved contractor will ensure you receive the right guidance, advice and support for your vent hygiene works, every time. You can be confident the work carried out will always be to the industry specification.
A strong track record of good vent hygiene
As all cleans carried out by VHR members are registered on the VHR Hub and have a certificate of clean generated, you can retain peace of mind that for each and every job, an audit trail demonstrating compliance with industry specification, has been created and recorded. This will give you the added benefit of reducing the risk of fire for all occupants, de-risking and potentially limiting liability for your business.
Protect people, property and reputation
Working with an approved VHR contractor means your vent hygiene meets industry standards, significantly reducing the risk of fire and the danger to lives and livelihoods.
Get the most out of your kitchen

Maintaining good vent hygiene with an approved VHR contractor will help your kitchen equipment perform better for longer, saving you time and money in the long run.
Keeping costs down is tempting but you need to be careful that this isn't the only reason you choose a contractor. Too low and it should be a warning, not a bonus for your budget. Using a VHR member will help you save money in the long term and provides peace of mind that your risk of fire has been significantly reduced.
London Fire Brigade states on its website - the number one Firefighter Top Tip for Restaurants and Takeaways is to have your ducting cleaned regularly in accordance with TR19® Grease and installed correctly. The top two most common fire risk in food businesses are:
'

dirty ducting'

- if you don't clean the ducting in your extraction system regularly, you're at a greater risk of ducting fires.

'

poor fire - safe separation between units'

-

this is especially dangerous if you don't keep your ducting clean. Ducting can pass through residential accommodation above, causing secondary fires.
It's easy to forget about those "out of sight, out of mind" areas in your commercial kitchen like extract ducts, filters and fans, which must be cleaned regularly to:
help prevent fire
improve the efficiency of your equipment
create a healthier environment for you, your staff and customers
meet strict hygiene standards
"This restaurant fire was inside the ducting.

We'd like to remind restaurant and takeaway owners to ensure they don't have dirty ducting.

If you don't clean the ducting in your extraction system regularly, you're at a greater risk of ducting fires.

You should also make sure you keep the hob, cooker hood and extractor fan clean too – built up fat and grease can ignite and cause a fire."
The Vent Hygiene Register is recognised by many insurers including the RISCAuthority - the body who carries out research on behalf of insurers to safeguard building occupants and reduce the risk of damage to properties. TR19® Grease is the industry specification for specialist hygiene works, which was published by BESA and had technical input from a number of Vent Hygiene Registered contractors.

If the unthinkable was to happen and a fire broke out in your premises, when it comes to your business insurance they will want evidence of:
when did you last have your grease duct extraction system cleaned?
and was the contractor qualified to TR19 and an Approved VHR Member?
By using an approved Vent Hygiene Register contractor you can demonstrate your property has been cleaned to the TR19® Grease Specification. On completion of works, you will receive from your contractor a full Post Clean Verification Report (PCVR) and a digital VHR Notification of Full or Partial Clean Certificate, both of which can be given to your insurers when required. More insurance companies are specifying TR19® Grease and the Vent Hygiene Register so get ahead of the game and have peace of mind, plus save money in the long run. Your VHR Contractor will be able to tell you when your next clean is due so you can be confident you will always remain compliant.
Don't be tempted to cut corners and put lives at risk
We know everyone is going through tough times, especially the hospitality industry. Many factors are having a huge impact on the hospitality sector which has seen many restaurants, hotels, takeaways and pubs reduce their hours or sadly close due to staff shortages, supply chain issues and the cost of living crisis.
To help save on costs, we understand it may be tempting to not have your grease extract system cleaned as regularly or not at all. Our advice is simple, don't!
Not having your grease extract system cleaned by a VHR Contractor could result in:
a build up of grease, resulting in a greater risk of fire

an unsafe and unhealthy environment for you, your employees and customers, as grease particles are released into the air from your extract systems

your business insurance becoming void, as you have no valid evidence of being compliant to

TR19® Grease

higher energy bills due to your equipment not being able to work efficiently
Always check your Vent Hygiene Contractor is registered
Unfortunately, there are vent hygiene companies out there who claim they are TR19® Grease compliant. That is why it is important to always use our Find a VHR Contractor search tool, which is simple to use and can be filtered by area. If you can't find the contractor on there, it says suspended or removed, then we strongly advise you select a vent hygiene contractor who is registered and approved.
If you would like to report a contractor for fraudulently using the VHR badge or claiming their work is TR19® Grease compliant, then please email contact@venthygieneregister.com. We will investigate and take action.


Complaints and Appeals
If you are unhappy with work carried out by a Vent Hygiene Registered contractor, then you can submit your complaint via contact@venthygieneregister.com. We have a complaints and appeals process, which is administered by BESCA, our third party auditing company.


Sign up to our VHR mailing list
Stay up to date with the latest from The Vent Hygiene Register and receive industry news and information from the experts.