THE VENT HYGIENE REGISTER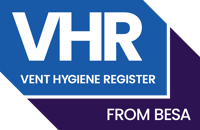 The UK's official register for vent and ductwork hygiene contractors.
Protecting people, property and reputation
The Vent Hygiene Register (VHR) was established in 2019 to allow approved members to demonstrate that the specialist vent hygiene works carried out by them to ventilation systems, was done so in compliance with TR19® specification.
Since then, VHR members have been able to certify the enhanced safety of more than 21,000 kitchen extract systems across the UK, meaning those properties are safer and therefore protecting people and the reputation of building owners.
The importance of demonstrating industry compliance in making ventilation systems safer means that:
Clients have documented evidence of cleans and reduction of fire risk
Building insurance providers specify VHR to reduce liability and risk

Building managers have a clear maintenance regime to ensure continued fire risk reduction

Occupiers have peace of mind they are in a safe environment
The Vent Hygiene Register demonstrates a visible community, an industry prepared to stand up and be noticed, due to their drive to prioritising safer systems through compliance with recognised industry specification and ongoing high standards of professional knowledge and training, resulting in the reduction of fire risks.
"The Vent Hygiene Register reassures customers that they have selected a competent company to support them in their management of fire risk control that is working in line with the correct standard and is independently audited for compliance. To those who are thinking of joining, think of the Vent Hygiene Register as being similar to Gas Safe, by following the requirements of the VHR, you are protecting your own business against the risk of being held liable for non-compliant work as required by TR19®."






Sign up to our VHR mailing list
Stay up to date with the latest from The Vent Hygiene Register and receive industry news and information from the experts.