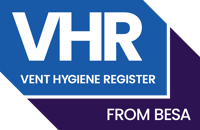 Your exclusive VHR member benefits and support
All you need is Hub
Take full advantage of your VHR Hub, where you can access all your business benefits in one secure place.
Manage and update your personnel details securely so we can always get in touch with the right person
Prove your commitment to your clients and compliance
In order to comply with the Vent Hygiene Register and meet the TR19® Grease Specification you MUST notify all your completed works on the Vent Hygiene Register Hub. Once you have uploaded your Post Clean Verification Reports (PCVRs) onto the VHR Hub, you can then provide your client with their VHR Notification of Full or Partial Clean Certificate so they can demonstrate their property has been cleaned to the TR19® Grease Specification, helping to de-risk their business and reduce liability with insurers. Failure to notify your completed works puts your VHR membership and client relationships at risk, due to not fulfilling your commitment to the TR19® Grease specification.
Notifying your completed works on the VHR Hub is simple, and 100% safe and secure. We don't share any client information so there is no need to worry, as the VHR Team are fully GDPR compliant.
Plus, did you know the more you notify and reach your notification milestones, you will be awarded with a VHR Notification Milestone Certificate, which you can proudly display in your office and share across your socials.
1
Renew your VHR membership
Login to your VHR Hub
2
Check all your membership details
Your details are stored on the VHR Hub so check everything is still correct
3
Your insurance policy
Add your up to date insurance policy
4
New GHT employees
Add any new GHT employees onto the VHR Hub
5
Payment
Choose your preferred payment option
Sign up to our VHR mailing list
Stay up to date with the latest from The Vent Hygiene Register and receive industry news and information from the experts.