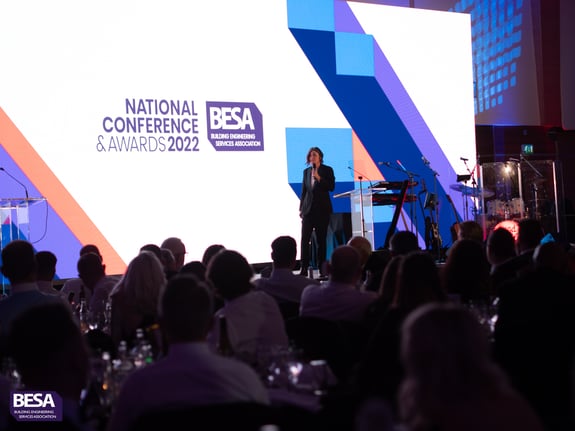 BESA National Awards 2022 Winners
2022 WINNERS
The apprentice categories recognise the exciting talent emerging across the industry. In these categories, the finalists are the winners from a series of heats organised by BESA members around the country.
The National Awards – many of these categories were new for 2022 and we had an amazing number of entries. Yes, competition was fierce!
Electrical Apprentice of the Year
Daniel Pallett, Enerveo
Described by his employer as one of their star apprentices, the winner shows an interest in all aspects of projects he is working on and is not afraid to ask questions.
Facilities Management Engineer Apprentice of the Year
Julie King, ECG Facilities Services
Described by their employer as an outstanding apprentice due to their inquisitiveness, enthusiasm, and general attitude to learning, always working and putting the client's requirements first.
Heating & Ventilation Apprentice of the Year
Joe Smith, Munro Building Services
He has been described as having a vast knowledge of their trade whilst being enthusiastic in all aspects of their site work. Joe is a joy to have within the company and we look forward to see what the future holds for this individual.
HNC & HND Building Services Apprentice of the Year
Dylan Gilbert, BES
Described as standing out from other apprentices, he has a perfect combination of technical ability and communication skills together with a great sense of teamwork, all underpinned by a hunger to succeed.
Refrigeration, Air Conditioning & Heat Pump Apprentice of the Year, Sponsored by Mitsubishi Electric
George Lowrey, T Clarke Climate Solutions
George is passionate about the industry and is a fine example of what a good attitude and talent can achieve.
Customer Service Person of the Year
Claire Pilcher, FP Hurley & Sons
The judges said that Claire combined an impressive professional approach and a willingness to help anyone with a very approachable manner.
Indoor Air Quality sponsored by Nuaire
RDM Electrical & Mechanical Services
They have shown great foresight and leadership in this crucial area for safeguarding human health and well-being.
They helped to produce a new British Standard for improving indoor environments, wrote a long-awaited health and well-being Code of Practice, and are key supporters of BESA's 'Buildings as Safe Havens' campaign.
Contractor of the Year
Roperhurst
The judges congratulated this company for ensuring that the highest standards of installation and quality control are maintained on every project.
Specialist Groups Award for Excellence
Adrian Sims, Owner, Vent Tech
Adrian has played a crucial role in promoting awareness, compliance, and competency in the Local Exhaust Ventilation sector.
Net Zero Initiative of the Year
Elementa Consulting
The judges recognised that this company has demonstrated a clear method for addressing the full lifecycle performance of a building and, also, puts net zero at the heart of its team culture.
Small Budget Project of the Year... under £500,000
A&E Treatment Rooms, Royal London Hospital - TRS
This project is a great example of how our industry rose to the challenge of the pandemic and was able to support the healthcare sector with crucial services despite having to work under severe restrictions.
Large Budget Project of the Year... over £500,000
Ashton Old Baths, Ashton-under-Lyne - Sudlows
For what the judges called a project with innovative design that delivered high-quality installation of a secure data centre within the constraints of a Grade II listed building.
Product Innovation of the Year sponsored by The InstallerSHOW
Aalberts integrated piping system - Pegler
For providing a simple but ingenious solution that addresses several tricky installation issues, and demonstrates outstanding product engineering.
Women in Building Services Award
Lisa-Jayne Cook, GEA Group - Service Sales Manager Key Accounts
Lisa is a true role model whose passion for making a difference through engineering is clear to everyone she meets. No nonsense, straight talking and someone who gets things done. She is inspiring a whole new generation of female engineers.
Diversity and Inclusion Initiative Award
IOR Women In RACHP
The judges saluted this group as role models and mentors and engaging with young entrants into the industry as well as showing support to women already working in it.
Competence and Compliance Award sponsored by the BMTFA
Farmwood Mechanical & Electrical Services
Farmwood M&E provided a top-drawer entry with masses of evidence of a deep commitment to compliance through a range of industry schemes and an impressive history of best practice.
RACHP World Skills Award
Luke Haile, Apprentice for Lightfoot Defence and student at Eastleigh College
The The highest scoring apprentice from the WSUK; RACHPskillsUK national qualifiers
The Manly Trust Management Bursary
Mark Simm, HE Simm & Son
young people and great causes across our industry.
This award is presented to Mark, in the early stages of his career has been identified by the Manly Trust and BESA as possessing great potential to grow into a future industry leader.
The prize is £4,000 worth of management training to help them develop that potential and add to their armoury of skills.
President's Award for Excellence
Roland Ferry, Ductform HFE
Roland was selected for their commitment and devotion to the industry both locally and nationally. BESA has in the past relied upon this person for guidance to members and technical forums. He has proven that no obstacle stands in their way when it comes to offering advice, training, design input or technical words of wisdom whilst also running a family a business.
Sign up to the BESA Events and Webinar mailing list
Never miss another webinar or BESA event again, sign up to recieve information on BESA events, conferences and our free industry webinars.